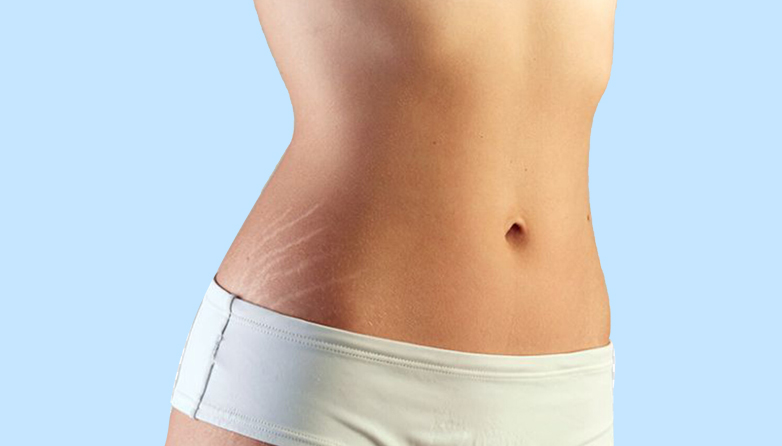 Stretch marks known as striae in the scientific world are red, green, or blue in their initial days of appearance. With time these stretch marks take the skin color and match your skin tone. Puberty, pregnancy, and rapid weight loss or gain can lead to stretch marks in the body. Stretch marks make no distinction between men and women and occur equally in all. Except that women are more aware of their presence and feel the stretch marks somehow mar their beauty.
Most women worried about them look for stretch mark creams as solutions and yet one must know that these solutions can take time to erase the prominent striae marks from your body. Some of these solutions are very effective and are known to be the best stretch mark creams available globally. To help you choose better, we bring you a few stretch mark creams- benefits and causes that you can check for yourself. 
Palmer's cocoa butter massage cream
Type: For all skin types
Product available as a cream
Cost: ₹600
It is one of the best stretch mark creams for multi-use purposes and is recommended by many for a soothing experience.
Benefits of using the cream:
Non-greasy, thick, and quite a creamy consistency
Cocoa butter, vitamin E, Agran oil, shea butter, collagen & elastin, and almond oil are the prime ingredients that moisturize your skin like no other.
The emollient base works wonders for many kinds of stretch marks especially the ones that arise from weight gain and loss. It also works on the stubborn stretch marks that appear from pregnancy. Cocoa butter goes a long way to soothe and smoothens the skin. Additionally, vitamin E, collagen, and elastin play a huge role in blending unattractive stretch marks.
Peter Thomas Roth pro-strength stretch mark cream
Type: For all skin type
Product available as a cream
Cost: $58.00
Key ingredients are tested on humans separately, and it contains 3% regu, 2% regestril and 5% lactic acid complex. 
Benefits:
Reduces the stretch mark length and width and makes it less dense.
Future stretch marks can be prevented from appearing.
Balances the uneven tone and texture of the skin
Each of the key ingredients has diminished the stretch marks after regular 4-week use. It's a good stretch mark cream and the skin's overall consistency was also seen to improve with regular use of the product.
Earth Mama Organics Belly Butter: pregnancy stretch mark cream
Type: For sensitive skin types
Product available as a cream
Cost: $21.99
Sensitive skin can be the worst impacted if proper care is not taken to administer a cream. 
Benefits:
It will relieve dry, itchy skin symptoms and is non-greasy.
The cream has no petroleum, paraben, or artificial fragrances and is made of organic herbs and oils like aloe and shea butter.
Clinically tested it is found to be the most ideal formula as a pregnancy stretch mark cream and can work for the skin in an entirely vegan way. It can be used even by a lactating mother and is known to revitalize the skin instantly. Stretch marks reduce with regular use and many claims are made that show people have immensely benefitted from it.
Wrap up lines
These are the best stretch mark creams available in the market and each works in its way to make your skin glowing and beautiful again. Shea butter, cocoa butter, vitamin E, and other herbal contents with no parabens, petroleum or other harmful ingredients, this selection of stretch mark creams is the best available in the market.